Power is a Burst III Rocket Launcher wielder who can stack ATK buffs on self and bonk enemies to shadow (or rather blood) realm with her Burst skill.
Her S1 gives her a pretty massive ATK boost and all she needs is to attack enemies with Fully Charged shots. At max level and max stack, the skill will give her a whooping 32% ATK buff. And what's best about the buff is that it isn't tied to on-kill like for example Harran, which means she can easily stack it both on boss stages and in normal stages. The issue with the skill is that without Resilience Cube (needs to be at least level 2) or a source of Charge Speed buffs in the team, it's not possible to keep the max stacks permanently - they will simply fall off when Power will start reloading.
Power's S2 gives her a pretty huge 38% Explosion Radius bonus, but keeping it up permanently won't be possible either. The 18 normal shots requirement means that Power will need to empty 3 magazines (which will take her around 24 seconds, not including any buffs or Cubes) to activate the S2 skill. And with 10-second uptime on the buff, it translates to roughly 50% uptime on the buff. Which is still pretty decent uptime, but you will need to time it right for Boss fights so she can hit multiple weak points at once. As for the 100% reload part of the skill, it basically refills her magazine instantly, but this triggers only once per battle.
Now, before we go over Power's Burst, here's a perfect meme that comes to mind: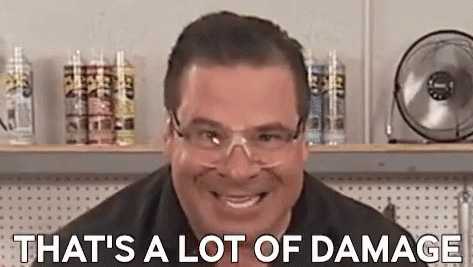 Yeah, Power's Burst hits hard, but not as hard as Snow White's - while the numbers on paper are in favor of Power, in reality, the Pierce effect on Snow White Burst allows her to reach ridiculous numbers when you use the skill at the right moment as you can hit multiple boss parts with one shot. Still, when it comes to auto-play, Power's bonkhammer will be more reliable and work out of the box. But the skill has some issues too, as it always targets the highest ATK target on the field and it isn't always the boss - so you can waste it on a minion by accident.
In PVE she can be used anywhere and in PVP she can actually allow you to snipe the highest ATK target on the enemy team so she has some potential there too, but we need to test her there more. So her PVP rating may increase soon!
Overall, Power is very similar to Laplace when it comes to damage output on both boss and non-boss stages so if you're lacking an RL character (for example for Union Raid or Interception), pulling for Power might be a good idea. She's also a really good choice for new players, as her ATK stacking buff paired with the Explosion bonus will allow Power to quickly deal with waves of enemies. Just keep in mind that Power is more of a jack of all trades, master of none type of character. She can be used in a lot of content, but another more-specialized or simply stronger character will overshadow her.