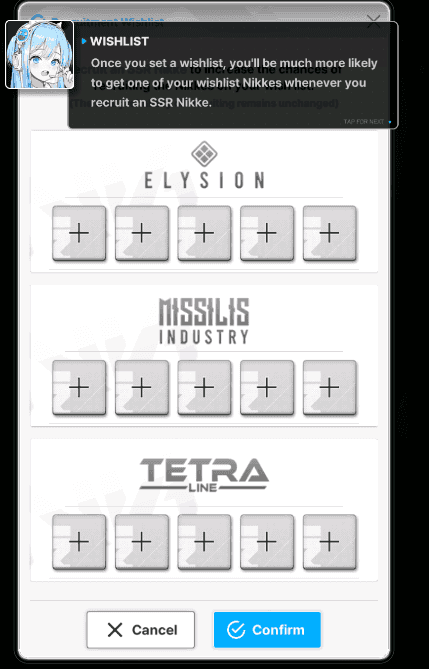 Wishlist is a feature in Goddess of Victory: NIKKE that unlocks after you do your first 40 pulls on the regular banner. After that, you are able to pick 5 characters from each of the 3 main factions (called Manufacturers).
When you fully fill the wishlist, every character you will pull from now will either belong to one of the 15 characters OR to the Pilgrim faction (they can't be added to the wishlist as they are a bit rarer - think about them like Light/Dark faction from most idle games).
Important! You have to fill all 15 slots or else the wishlist won't work. You can't abuse it by just selecting one character per faction.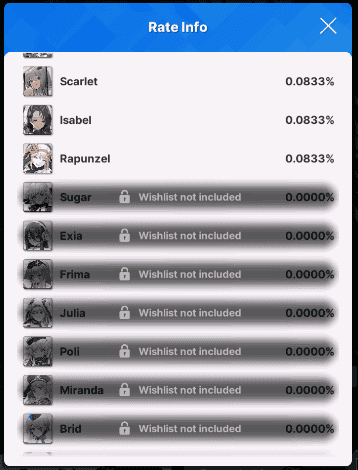 To summarize, thanks to this feature, you are able to target the characters that you plan to use in the long term or build teams around. So it's very important to setup your Wishlist right when you unlock the feature - and this guide will help you do it!
Considering that there exist a Tower mode where on top of a free-for-all tower, exist faction towers, where you can only use characters from that faction, we made sure to fill the list with at least one character from each Burst time, so you can build a full team.
Check below for the list of best (or most universal) characters in each faction that, in our mind, should be on your Wishlist. If the list is missing someone you love, and you want her there, make sure to still have a full spectrum of Burst Types or you will get stuck in the Tower.